Ever wonder where to get some special burger from the real food of western style? Look no further. The flip burger is what you are looking for. The restaurant is a location inside a shopping mall known as "Queensbay Mall" in Penang. A modern of a 5-story complex featuring not just restaurants but other cinema, fashion and electronics stores.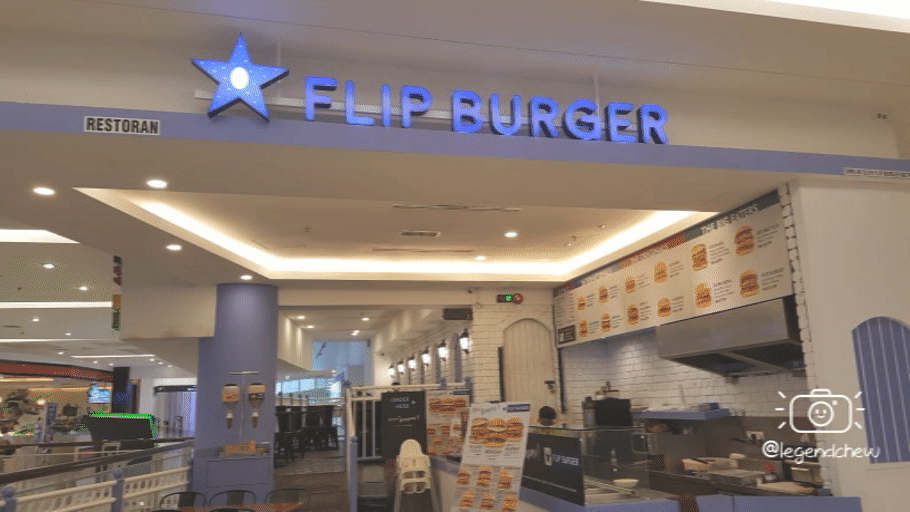 Decoration & Design
The decoration and design is a standard wood table with the steel chair which feels like a cafeteria or canteen. There is a mini stair where you can climb to find your table and chairs. It is a compact restaurant in a shopping mall. Limited space and do not have washing basin or washroom.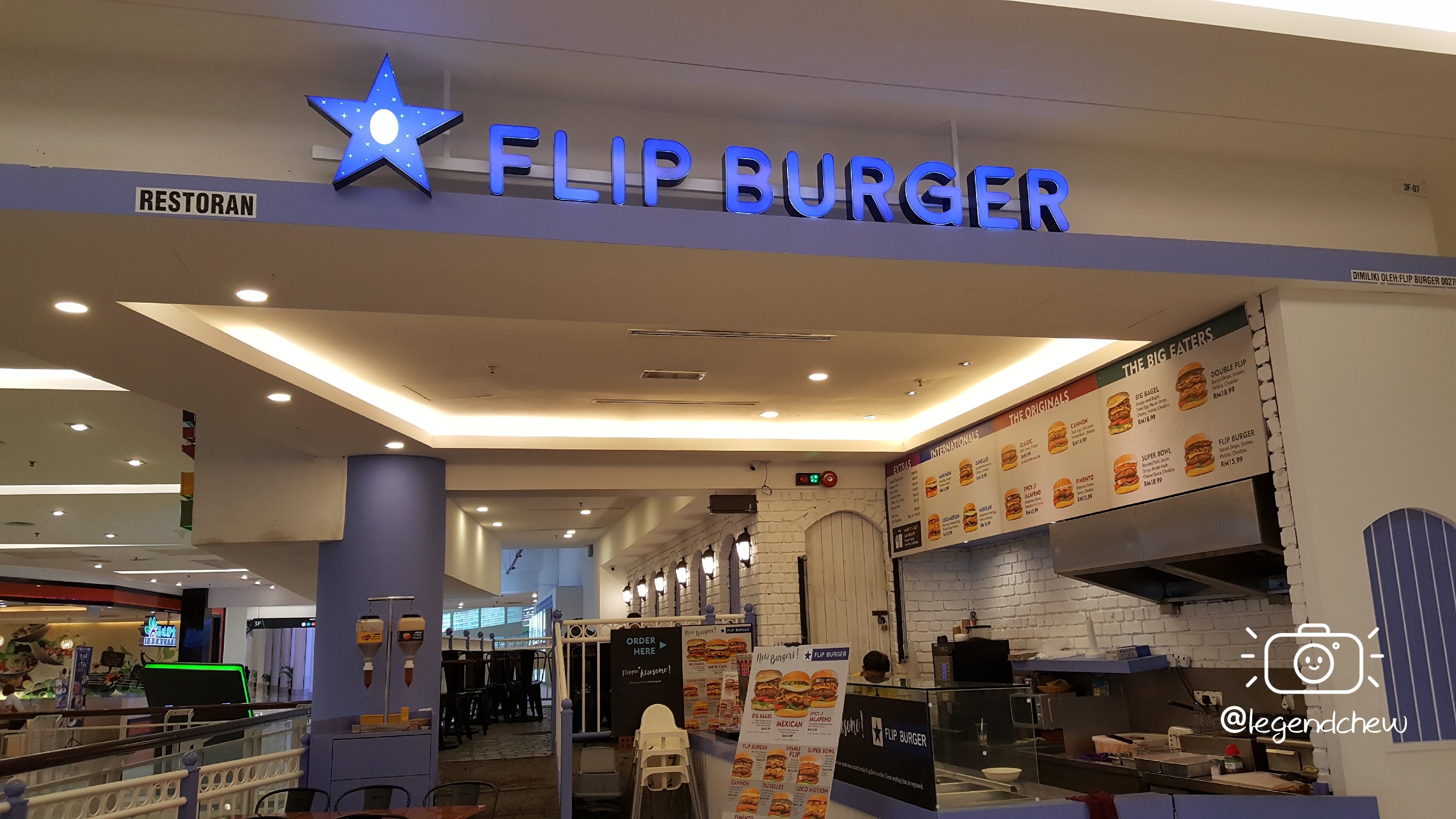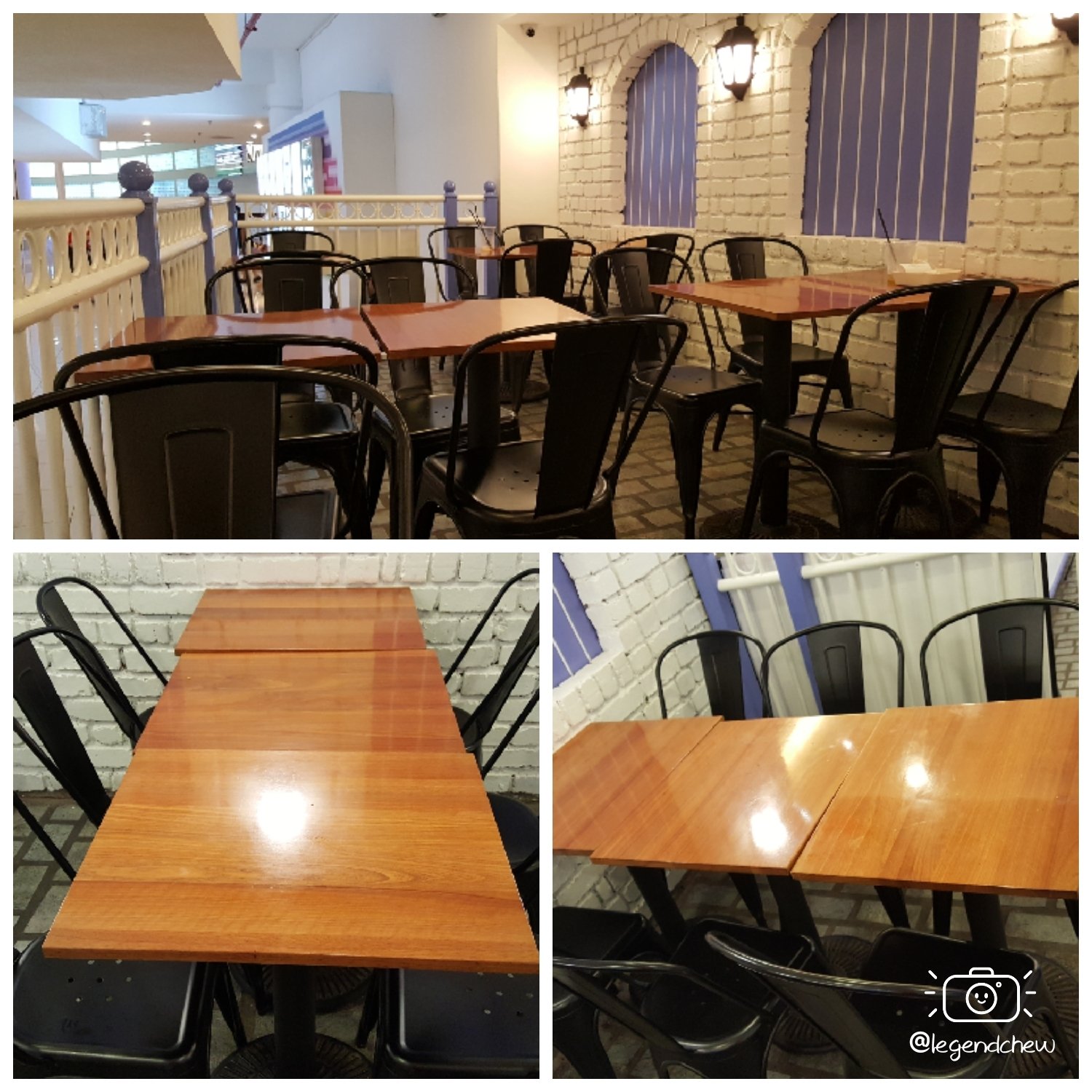 Menu & Price
A menu represents a thousand words. What you see is what you get. I personally like the details they described in each burger.
Each burger is unique with their recipe ingredients such as poppy-seed bagel, fried egg, bacon strips, caramelized onions, pickles, natural cheddar, guacamole, pickled jalapenos, potato hash, cheese sauce, salted duck egg yolk sauce, sauteed mushrooms, crispy ham fries, pineapple ring, teriyaki glaze, pimento cheese sauce, marinara sauce, tomato and fresh coleslaw. Some ingredients may not available to the seasonality. Therefore, you may get a different taste from the original which is shown in the menu. Every burger you order, you may choose from different meat from beef, pork, chicken and fish upon availability in the menu.
You may order it with a set with the variety of add-on choices such as onion rings, hash browns, fries, and salad. As for the drinks, they have soft drinks such as 100 plus, Sarsi, EST(Cola) and Grape. Meanwhile, if you do not like soft drinks, there is tea available too such as iced lemon tea, peach, and herbal tea.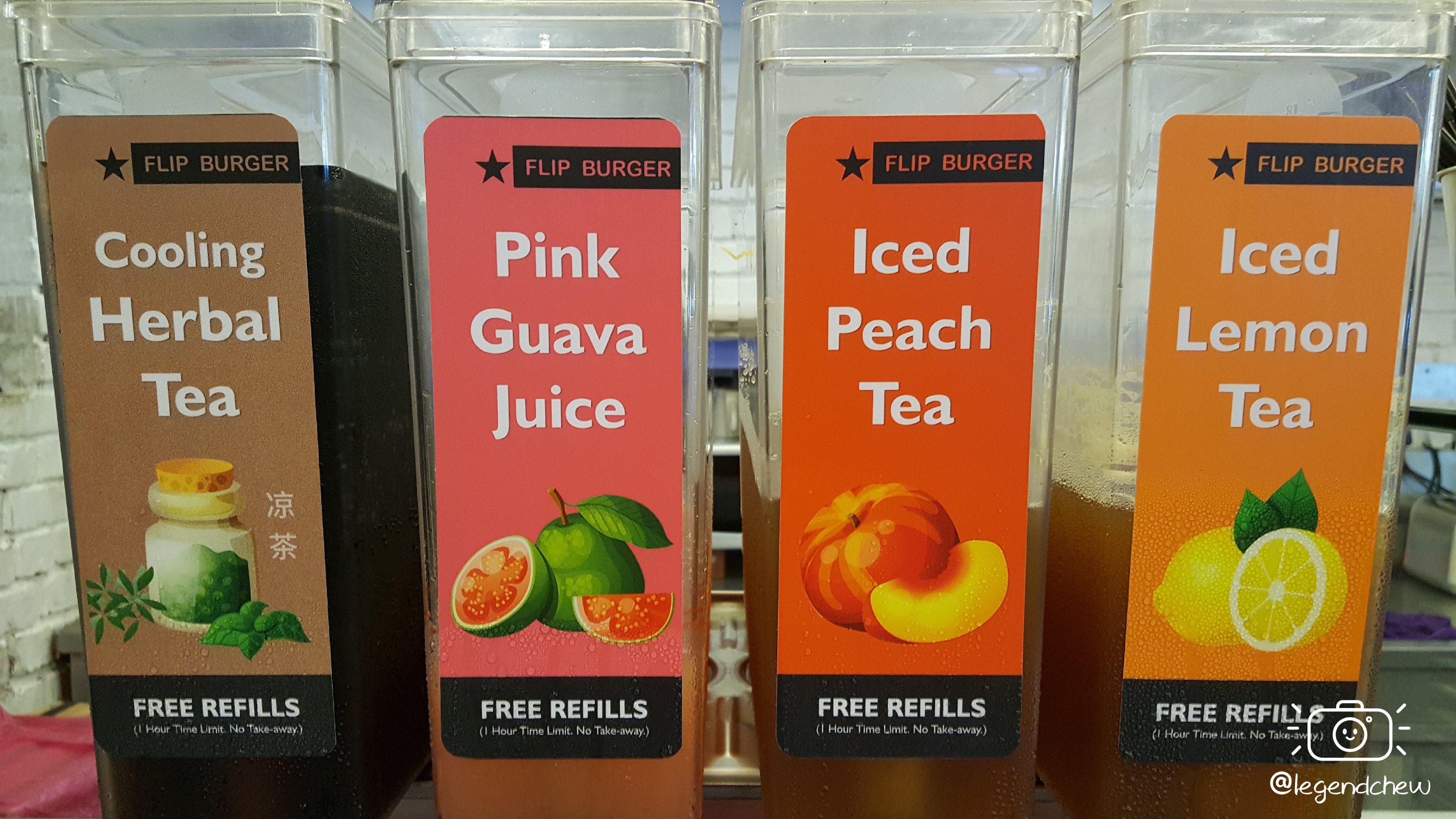 Food, Services & Review
It takes about 3 to 10 minutes for preparation before per order. When it is crowded, for example, there is at least 10 person is in the queue. It is not recommended to wait for it. By the time for your order, you may have to wait and waste for at least half an hours.
Probably you may get confused with the ingredients but what is important is the taste. The burger is quite juicy and it will melt your mouth with the bite. The sensational of eating it just make your mind blowing. Probably it was due to their secrets to a succulent burger.
Plenty of choices to choose from the menu. The most popular burgers at the moment are Big Bagel, Mexican, and Spicy Jalapeno. The only juice available is pink guava. As you order for the set, you may enjoy for an hour free flow drinks on iced lemon tea, peach tea, herbal tea and pink guava juice. As for the price of such a large burger, I would say is worth it.
You may need some skill to eat the burger since it is quite large. As you eat, you probably going to use up of your fingers or hands to take up the burgers. This will make your hands dirty and you will realize there is no washing basin inside the restaurant. However, there is a nearby washroom but you have to walk away from the restaurant in order to clean your hands.
From one bite to another, you may think to have another ~ Legend Chew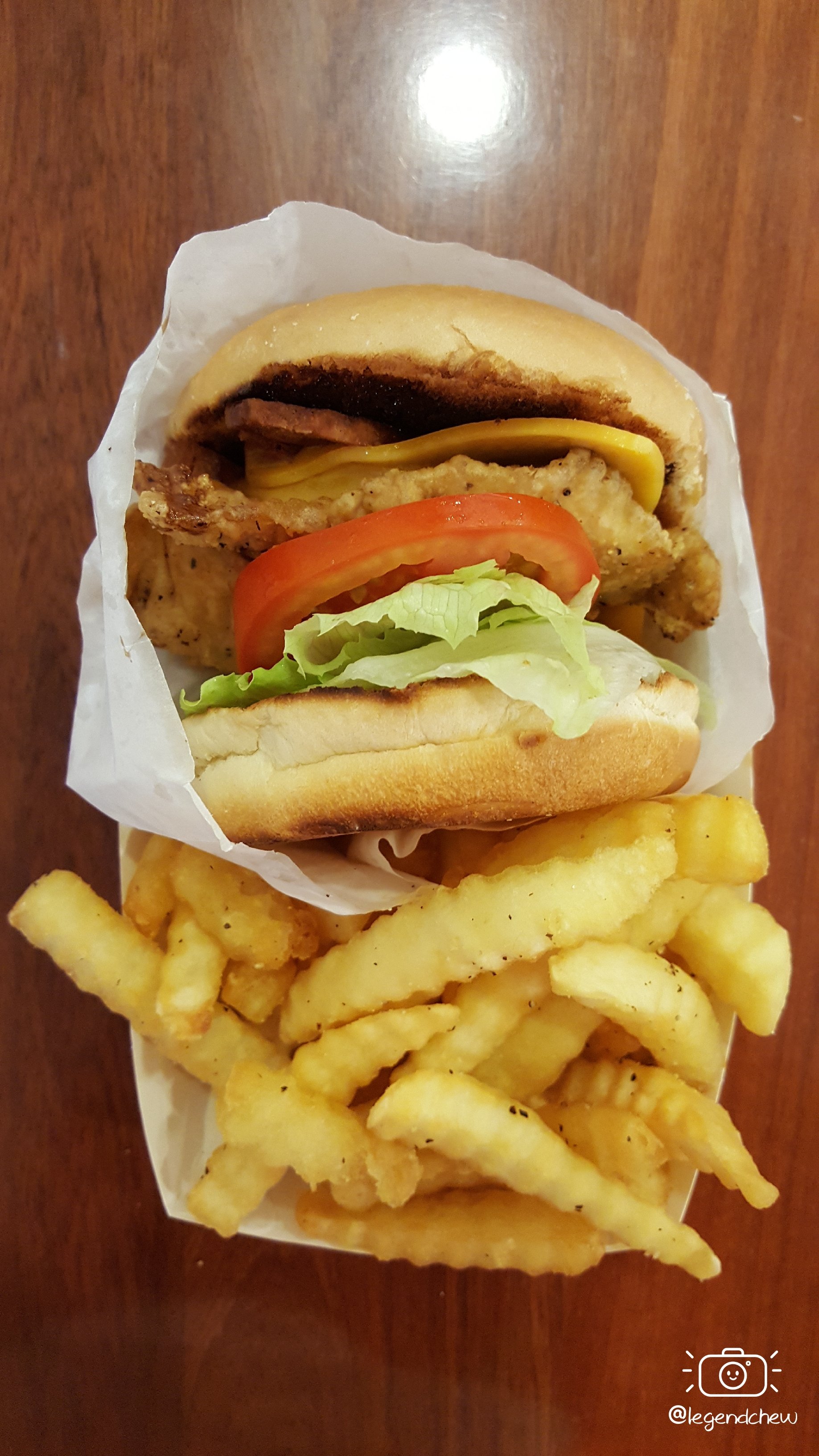 Loco Motion Fish Set With Fries ~ RM 21.98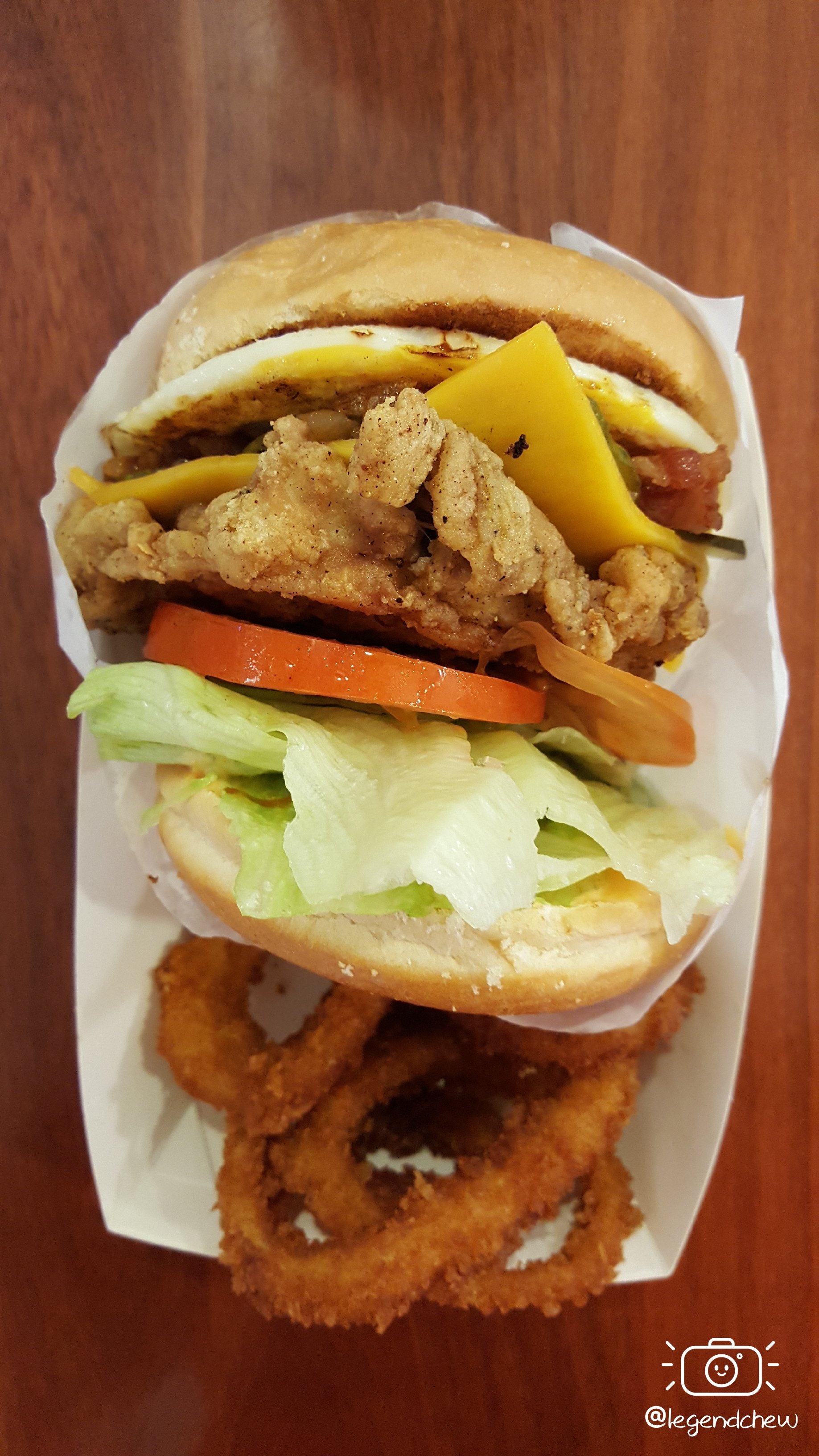 Big Bagel Chicken Set With Onion Ring ~ RM 25.98
Location & Map
Name: Flip Burger
Address: 3F-07, 3rd Floor, Queensbay Mall, 100 Persiaran Bayan Indah 11900, Penang, Malaysia.
Hours: Every day ~ 10:00 AM – 10:00 PM.
Telephone: (+60)4 – 644 3339
Google Map: https://goo.gl/maps/EQpeuHMqwnB2
Remark: All photos were originally taken using Samsung Galaxy Note5 by Legend Chew. Animated GIF and slideshow designed by Legend Chew.